A sentence is considered as a largest and vital unit of any Spoken and Written language. Sentence is nothing but a group of meaningful words, which is arranged grammatically. It consists of words, phrases or clauses.
Sentences are of four kinds-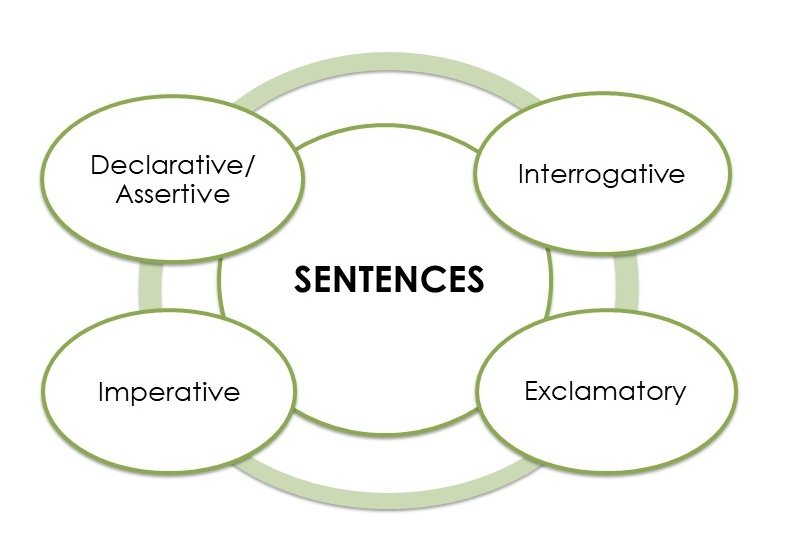 DECLARATIVE / ASSERTIVE SENTENCE
---
Declarative/Assertive Sentence is the kind of sentence which makes an informative statement. It declares something directly. They are the most commonly used sentences in English.
Examples-
I want to go to California tomorrow.
I have been teaching English since 1996.
You need to take your medicines tonight.
I am ready to show my talent. 
My father helped me to solve these examples.
You can come with me to meet your teacher.
INTERROGATIVE SENTENCE
---
Interrogative Sentence is the kind of sentence which asks a direct question. It enables us to answer and gather information. There are two types of Interrogative Sentences.
 'Yes/No' type question- begins with helping verb
 'Wh' question- begins with 'Wh' word
Examples-
Are you going to buy a new shirt today?
Have you completed your homework?
Is there any question to ask now?
Did you go to meet your uncle yesterday?
What were you writing in the notebook?
Where have you gone the day before yesterday?


IMPERATIVE SENTENCE
---
Imperative Sentence is the kind of sentence which issues a request, command, advice or suggestion. They tell us what to do, using different tones.
Examples-
Give me the ink-pen for today.
Please offer me your sit for some time.
Quit smoking from today.
Do not make a noise.
Fire at the enemy.
Use mask at public places.


EXCLAMATORY SENTENCE
---
Exclamatory Sentence is the kind of sentence which contains a strong emphasis, emotion, feeling or excitement.
Examples-
What a beautiful sight it is!
How difficult the paper is!
Hurrah! We have won the match.
Alas! his father is no more.
Sorry! I can't save your father.
Ah! My kite is high up in the sky.

---
also see:
TENSES
DIRECT-INDIRECT SPEECH
MODAL AUXILIARIES