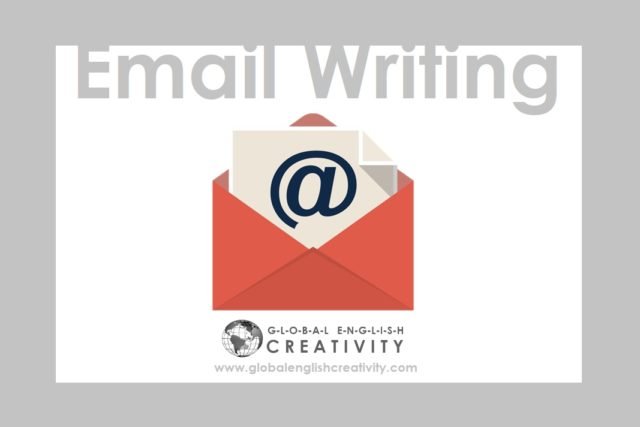 What is an Email?
Email means Electronic Mail, one of the most commonly used and popular services on Internet. Email is an effective method of exchanging messages between people with the help of electronic devices.
Email was invented by Ray Tomlinson in 1972. He developed the first system to send mail between users on different hosts across the ARPANET, using the @ sign to link the user name with a destination server. Later the system was recognized as email. Email operation is primarily based on the availability of Internet. Today's email systems are based on a store-and-forward model. Email systematically accepts, forwards, delivers and stores messages.

Why use Email?
Relatively simple operating system

Used to instantaneously send to several, all over the world

A free tool. There is no further expense that you need to spend, once you're online

The fastest way to contact. You can send it simply by clicking a button, once you finished composing

Easy to use. Composing, sending and receiving is very simple process, once the account is opened

Messages are stored permanently

Very useful for mass communication. One message can be sent to several recipients, within a click.

Documents, images, links etc. can be attached easily

Saves time and energy
| | |
| --- | --- |
| Dos | Don'ts |
| Use subject line clearly | Don't keep message long and narrative |
| Keep calm and quiet | Don't forget your signature |
| Include your name and contact information | Don't be negative |
| Before sending, proofread and edit your mail | Don't forget to check spelling and grammar |
| Use proper salutation | Don't use humour and sarcasm |
| Keep private material confidential | Don't punctuate poorly |
| Keep your email short and flawless. | Don't assume the recipient knows what you are talking about |
| Check your attachments before sending | Don't forward email without permission |
| Recheck your email | Don't hit 'Reply All' |
Parts / Components of Email
Recipient's Address




---

An email recipient is an individual who has opted-in to receive email from an individual. It includes email address of the intended recipient or recipients. Multiple recipients are separated by comma.
e.g. [email protected], [email protected]

Cc and Bcc




---

CC stands for Carbon Copy, while BCC stands for Blind Carbon Copy. CC and BCC are two ways to include more people as recipients in an email. These are the ways of sending copies of an email to multiple people.


In CC, you can see a list of recipients. All your recipients can see who has been added to your mail. In BCC, other recipients won't be able to see it. This is the only difference between CC and BCC.

Subject Line




---

An email subject line is the first text the recipients see. It is important to keep an email subject line clear, informative, catchy, and brief.

Message Body




---

Message body of an email includes-
a. Salutation- e.g. Dear…, Respected Sir/Madam, Honorable…, Hi, Hello etc.
b. First Paragraph, Second Paragraph & Complementary close e.g. 'Best wishes', 'Yours truly', 'Sincerely', 'Regards' etc.
c. Email signature– It is a block of text appended to the end of an email message. It contains sender's name, address, phone number, disclaimer or other contact information.

Attachments




---

An email attachment is a file sent along with an email. One or more files can be attached and sent along with it to the recipient. This is the convenient way to share documents, images, videos etc.


1. Write an Email to the editor of a newspaper to draw attention of the authorities, regarding the bad condition of roads in your city.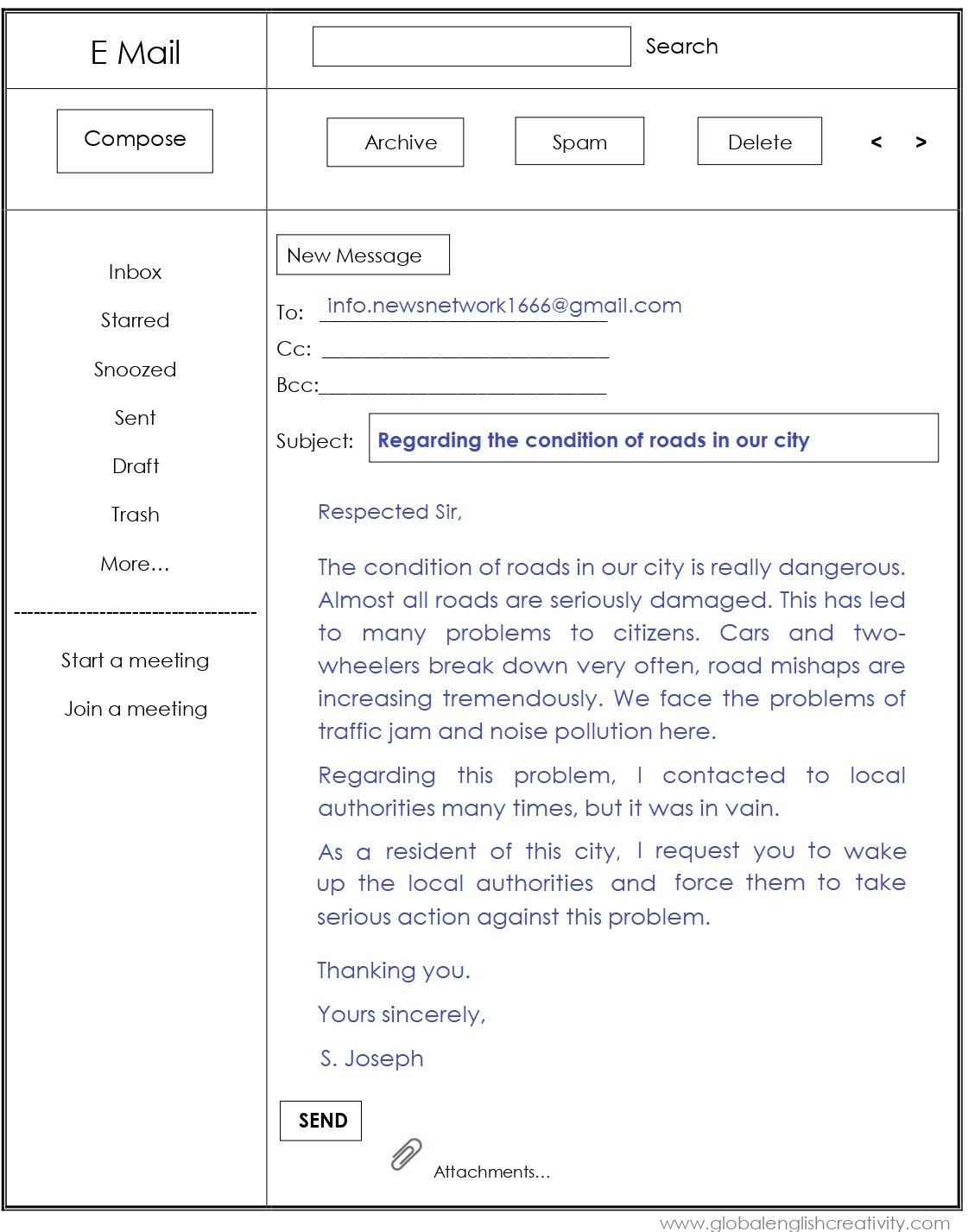 ---
2. Draft an E-mail in a proper format to be sent to a famous and distinguished personality in order to invite him/her for the "Prize Distribution" programme organized by the college authorities and to be held at your junior college campus. Give complete programme schedule and details about the event.
---
3. Imagine you are in-charge of a social organization and you want to organize a "Cleanliness Campaign" at a rural place. Draft an E-mail in a proper format to be sent to concerned authorities asking for the necessary permission. Give all details specifying the scope and importance of this event.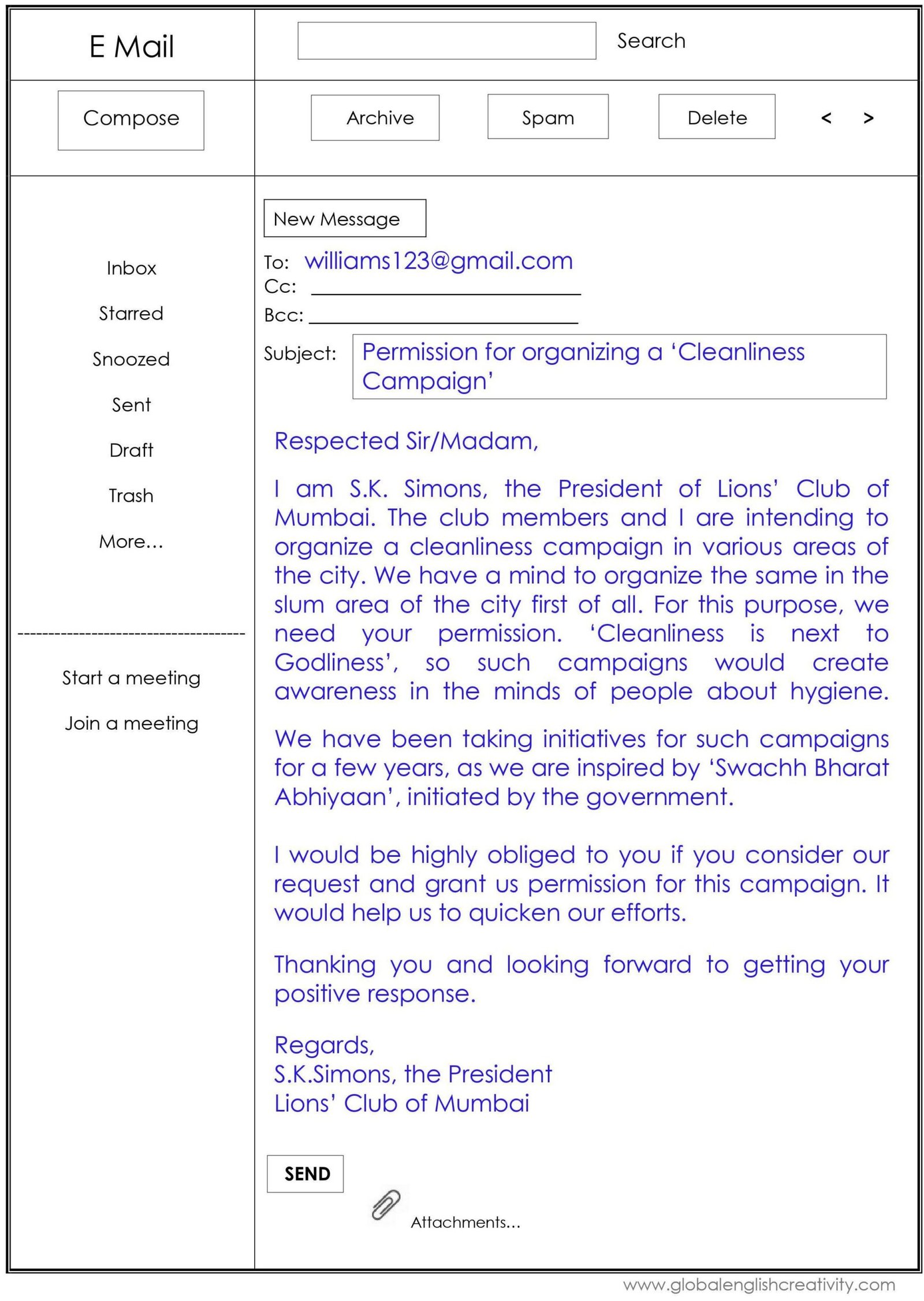 ---
4. Frequent cases of thefts have caused fright in the minds of the people in your locality. Draft an E-mail in a proper format to the police department giving all details and happenings to expect an immediate action and permanent solution on this issue.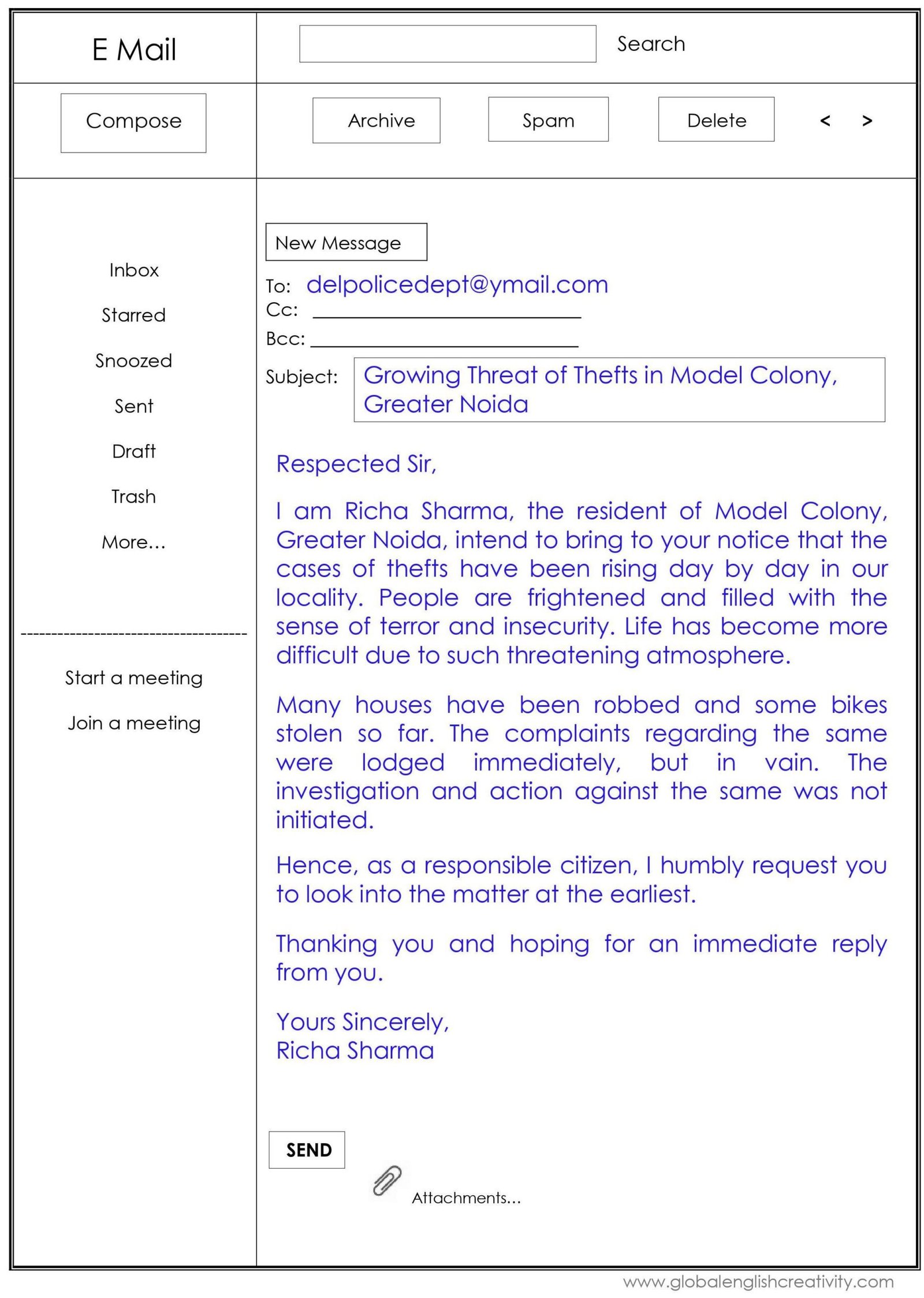 ---
5. Draft an e-mail inquiring about the details of the degree course in Law.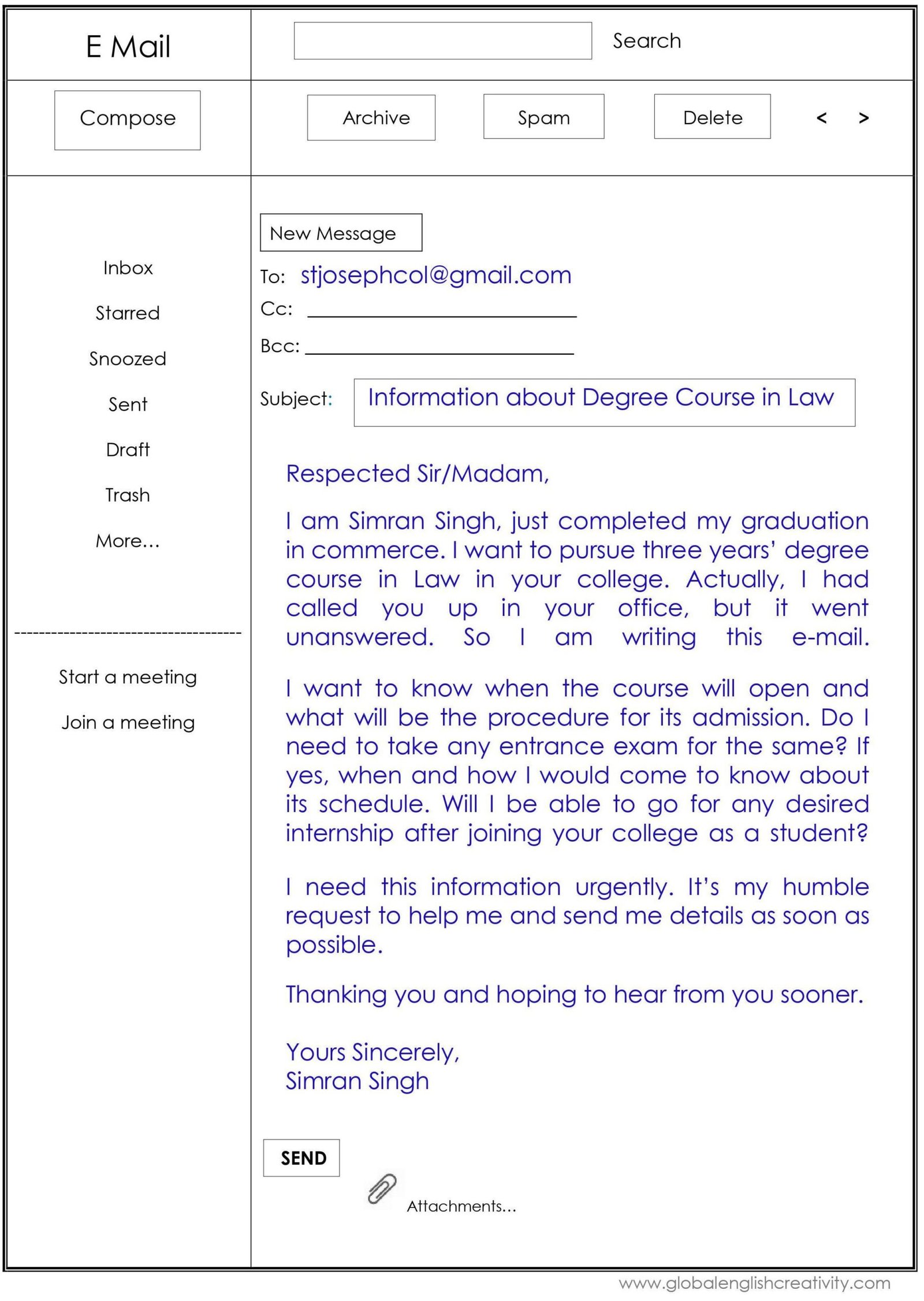 ---
6. You had a very bad experience at the restaurant. Write a formal email complaining about the same to the manager.
---
7. Suppose you are shifting to another city and hence, you are not able to continue your job as an Accountant in the Finance Company. Write an e-mail containing your resignation.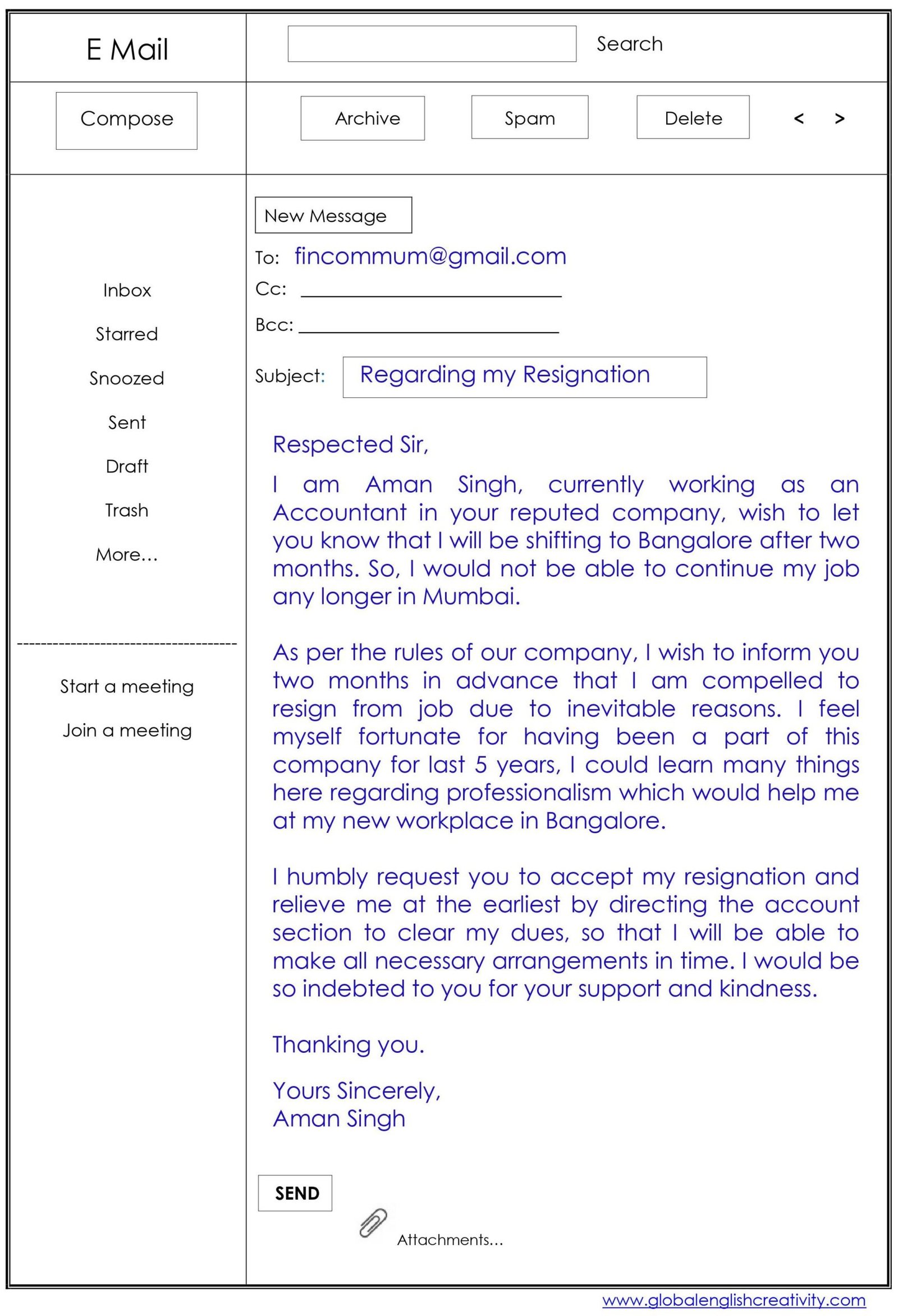 ---
8. Write a congratulatory email to your best friend on getting grand success in the Board Exams.
More examples will be added soon


---

---
also see