A Report is a short as well as concise document, presented in a written form for different purposes. It is a systematic description of an event, an incident or a situation. The information is based on fact and structural analysis. It is a formal style of writing, based on a particular topic or subject.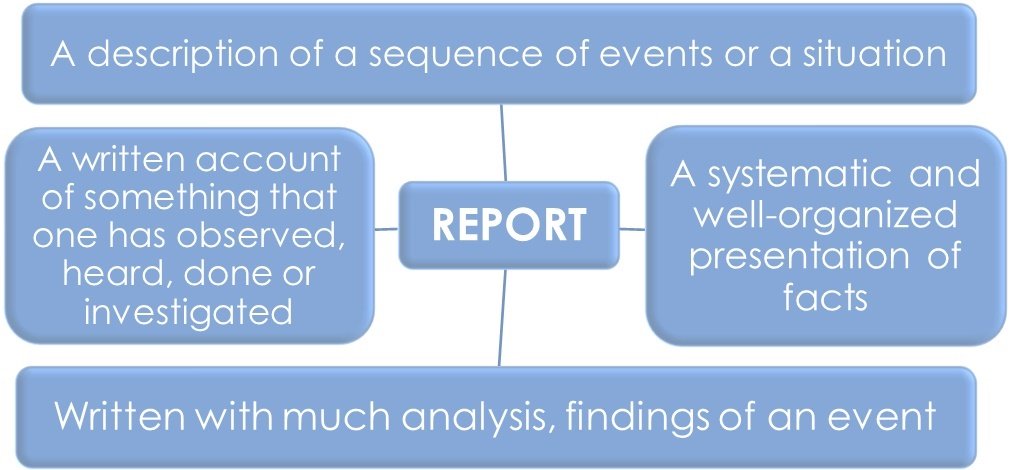 IMPORTANT TIPS FOR REPORT WRITING
---
Exercise-
Recently, you have visited a Forest. Write a Report, to be published in magazine/in a local newspaper.
A THRILL IN A FOREST
Dipak Burhade
Mumbai, May 25
---
Last month, we spent a week at Nagarhole National Park, Karnatak, INDIA. The Park is considered as World Heritage site by UNESCO. Bengal Tiger, Indian Leopard, Sloth Bear, Striped Hyena are the predators that can be spotted here.
What a thrill that was! It was the month of April. The Park was absolutely decorated with small streams, hills, valleys and waterfalls. We stayed in a tent built at one of the lake, really enjoyed being closure to nature. We experienced the real thrill when we saw a pair of Bengal Tigers. Some of us captured the moment in camera.
The roaring and barking sounds, twittering of birds and the sounds of streams brought us very close to nature. We were taking care of the environment and enjoying much. The sounds of animals, their frequently coming at the lake, darkness, starry sky etc. made us crazy. Really fantastic!!!
Whole day we would wander in the jungle, observing and exploring something different. We talked with local people and shared meal with them.
What a thrilling tour that was. A Real Thrill in Forest!!! Memorable!!!
MORE EXAMPLES WILL BE ADDED SOON…
---
also see:
EXPANSION OF IDEA
MIND-MAPPING
TAKING INTERVIEW
KINDS OF COMMUNICATION
EMAIL WRITING