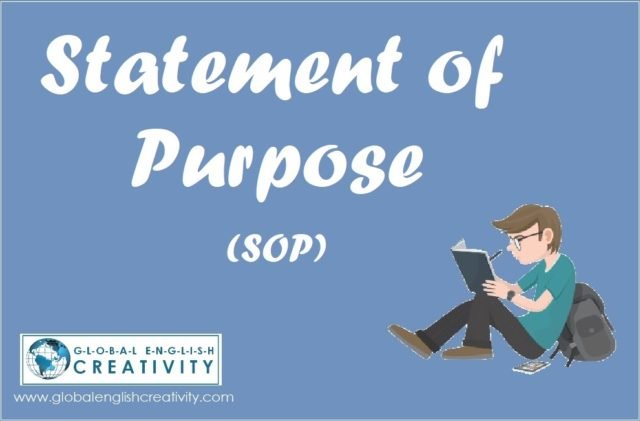 WHAT IS STATEMENT OF PURPOSE (SOP)?

A Statement of Purpose (SOP) is a research statement or a letter of intent. It is an application made to a university or institution, for admission purpose. This helps them in verifying the proper candidate for the courses offered by them. SOP is the subjective aspect of your application. It is an essay which describes your personality as a whole.

SOP reveals who you are, why you're applying, why you're a proper candidate, and what you want to do in future.

1. Your hobby is climbing the mountains. You are fit, both physically and mentally. You have already climbed various mountains in India. Now your dream is to climb Mt Everest, world's highest mountain. You wish to join Himalayan Mountaineering Institute, Darjeeling to get proper training for it. Make a Statement of Purpose in about 100-150 words, which will help you to get admission in this Institute.

---
2. You have great thirst for knowledge in a foreign language of your own choice. You are also prepared to pursue your education abroad for the same. You are therefore seeking a university for a degree in a foreign language of your choice. Prepare a Statement of Purpose in about 100-150 words, which will help you to get admission in this University.
(SOP WILL BE ADDED SOON)
---
3. You have developed good skills in English Language. You think of directing your skills for more specific goals. Now you aspire for a degree in "Mass Communication" at a specific university which provides this programme. Prepare a Statement of Purpose in about 100-150 words, which will help you to get admission to this University.
(SOP WILL BE ADDED SOON)
---
4. There are limited vacancies for getting admission to a well-known music and dance academy in Mumbai. Dancing is your passion and you always wanted to pursue career in music and dance. Prepare a Statement of Purpose in about 100-150 words, which will help you to join the academy.
(SOP WILL BE ADDED SOON)
---
5. You are highly passionate towards becoming successful entrepreneur and therefore want to pursue your higher education in "Business Management". Your background and skills have motivated you towards business and now you seek admission to accomplish a degree in "Business Management" at a reputed university. Prepare a Statement of Purpose in about 100-150 words, which will help you to get admission to this University.
(SOP WILL BE ADDED SOON)

---
6. You have been shortlisted for a scholarship to attend an online course in developing English speaking skills from the American Embassy in India. You always wanted to learn English from expert teachers in India and from the native American trainers. The final selection will be made as per the statements of purpose given by the shortlisted candidates. Prepare a Statement of Purpose in about 100-150 words, which will help you to get entry to the course.
(SOP WILL BE ADDED SOON)
---
7. You have a keen interest in media, entertainment and graphic designing. You wish to join the Institute of Animation in Pune after 12th. Make a Statement of Purpose (SOP), in about 100-150 words, which will help you to get admission in this Institute.
(SOP WILL BE ADDED SOON)

---