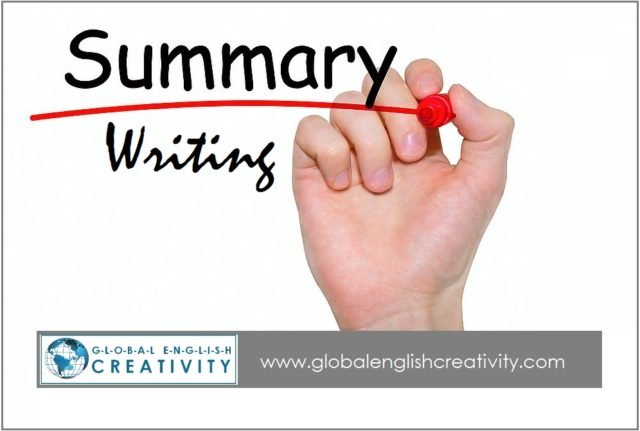 A brief statement or account of the main points of something.

A short, clear description that gives the main facts or ideas about something.

A comprehensive and brief abstract or statements.

A short account which gives the main points but not the details.


A record in the reader's own words.

A process of recapitulating the main points in selection.

A short overview of something longer.

A brief statement that presents the main points in a concise form.

A form which contains only the ideas of the original text.



EFFECTIVE TIPS TO WRITE SUMMARY
PASSAGE NO.1
My home is a haven for not just me and my wife, but for a horde of cockroaches as well. Most mornings my wife enters the kitchen to find them scurrying away after a night of feasting – a sight that certainly doesn't improve her disposition, already soured by having to rise early. Grabbing a fly-swatter, she clobbers the fugitive to pulp. The stink would floor anybody, but frequent exposure has hardened her. To the accompaniment of some unladylike swearing, she resolutely cleans up the mess and tackles the housework. This pre-dawn massacre is a regular feature. Yet the cockroach population has not decreased. On the contrary, much to our dismay, we notice fresh 'reinforcements'. Prolific breeders, the vermin are as determined to survive as we are to exterminate them. Indeed, our 'chemical warfare' against the pests would have raised Hans Blix's hackles. In the process we have built up a small arsenal of spray guns and supposedly toxic pesticides, to which they appear to be largely immune. In fact, it's not unusual to find them curiously nosing around the pesticides-our WMD or "Weapons of Minimal Damage," as my better half scornfully terms them. No wonder it's said that cockroaches will survive even a nuclear attack. We have tried various home-spun remedies in vain. Then we were told that chickens relish roaches. So we starved our six hens and two roosters for half a day and then marched them into the kitchen. They did a good job. Craning their necks into every nook and cranny, they worked overtime gobbling up the vermin.
Dominant Members


Writer's home is the safety place for numbers of cockroaches. Cockroaches have become the dominant members of the family. From morning till night the writer's wife would run after the cockroaches to kill them. The operation against cockroaches has been continuously going on. Different remedies are tried to get rid of them. Cockroaches are clobbered into pulp and also killed by using spray guns and toxic pesticides. But all in vain. These weapons are called as the 'Weapons of Minimal Damage'. Finally, six hens and two roosters are brought to gobble up the vermin. The cockroaches not only harassed the family but also disturbed the mentality of all.
MORE EXAMPLES WILL BE ADDED SOON

---

---
also see